There have been a lot of questions that I have encountered about the stability of the housing market due to the global health crisis of COVID-19. I have kept close track of the statistics and daily activity in our market in order to help keep my clients well informed. Inventory levels remain very tight and buyer demand has started to return since the Stay Home Orders were put in place.
Interest rates are at the lowest point they have ever been, providing amazing opportunities for both buyers and sellers. Interest rates continue to fuel buyer demand and create an audience for home sellers. Recently, rates were as low as 3.33%, which is historic.
Below is a chart that shows the amount of weekly pending sales in 2020 in relation to the weekly pending sales during the same week in 2019.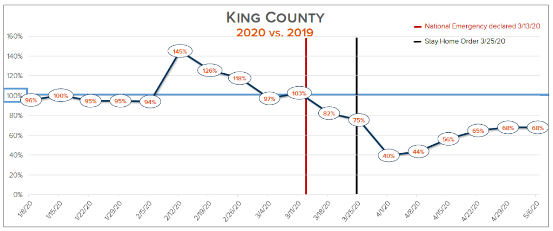 In King County, you can see that we started the year off with activity similar to the robust year of 2019. In February 2020, there were more sales, but that was due to "Snowmageddon" in February 2019. March 2020 started off in concurrence with 2019, but once the Stay Home Orders were put in place there was a dramatic and expected drop in pending sales activity.
When the Stay at Home Orders were first put in place, showings were not allowed, causing a legitimate pause in transactions. The following week, the orders were adjusted to allow for showings and since then the amount of pending sales has increased each week. Protocols for showings include only two people in the home at one time, by appointment only, while practicing 6-foot social distancing.
These protocols, along with virtual showings and many different digital tools using video, have helped buyers and sellers safely come together in transactions. Agents are getting creative in order to best serve their buyers and sellers during this unique time. This has helped quell demand brought on by interest rates and the many industries still thriving despite recent unemployment numbers. See this video from Matthew Gardner regarding the latest unemployment report and his forecast.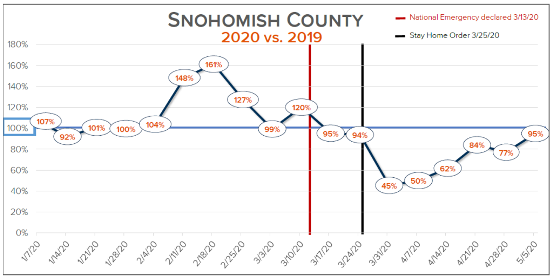 Snohomish County followed the same initial pattern as King County, but has seen a quicker return to 2019 sales levels. This is due in part to the more affordable price points in Snohomish County compared to King. In fact, the days on market for closed sales in April 2020 were quicker by 34% at 21 days, and the list-to-sale price ratio was up 1% to 101% over April 2019. Additionally, the median price is up 3% complete year-over-year. In King County, the median price was up 1% complete year-over-year and days on market quicker by 41% at 17 days, and a flat list-to-sale price ratio of 101%.
Tight inventory started in January and continued due to sellers holding off coming to market amid COVID-19. Available inventory is currently not meeting the buyer demand in the market, especially in the lower to middle price ranges. The higher price points have been affected by the increased cost to obtain a jumbo loan, but are still seeing movement. We anticipate more homes coming to the market as we enter into the different phases Washington State has planned to reopen the economy and remain as safe as possible.
For some, now is the right time to sell, and for some it will be later down the road. The timing, safety, and comfort all need to be assessed along with the market data. What I'm pleased to report is that our market is not crashing. In fact, it is adapting! We will most likely find a balance as we head into the remainder of Q2 and start Q3. Many jobs are set to return as the phases unfold. Unlike the 2008 Great Recession, this is a health crisis, not a housing crisis; see this video from Matthew Gardner on this topic. The numbers are telling that story and so is the recent activity.
I strive for excellence when it comes to educating my clients, especially during these historic times that have created uncertainty. I am committed to providing accurate data and real-time information. Please reach out if you'd like to discuss this information and how it relates to your investment and lifestyle. It is simply my goal to help keep you informed and empower strong decisions. Be well!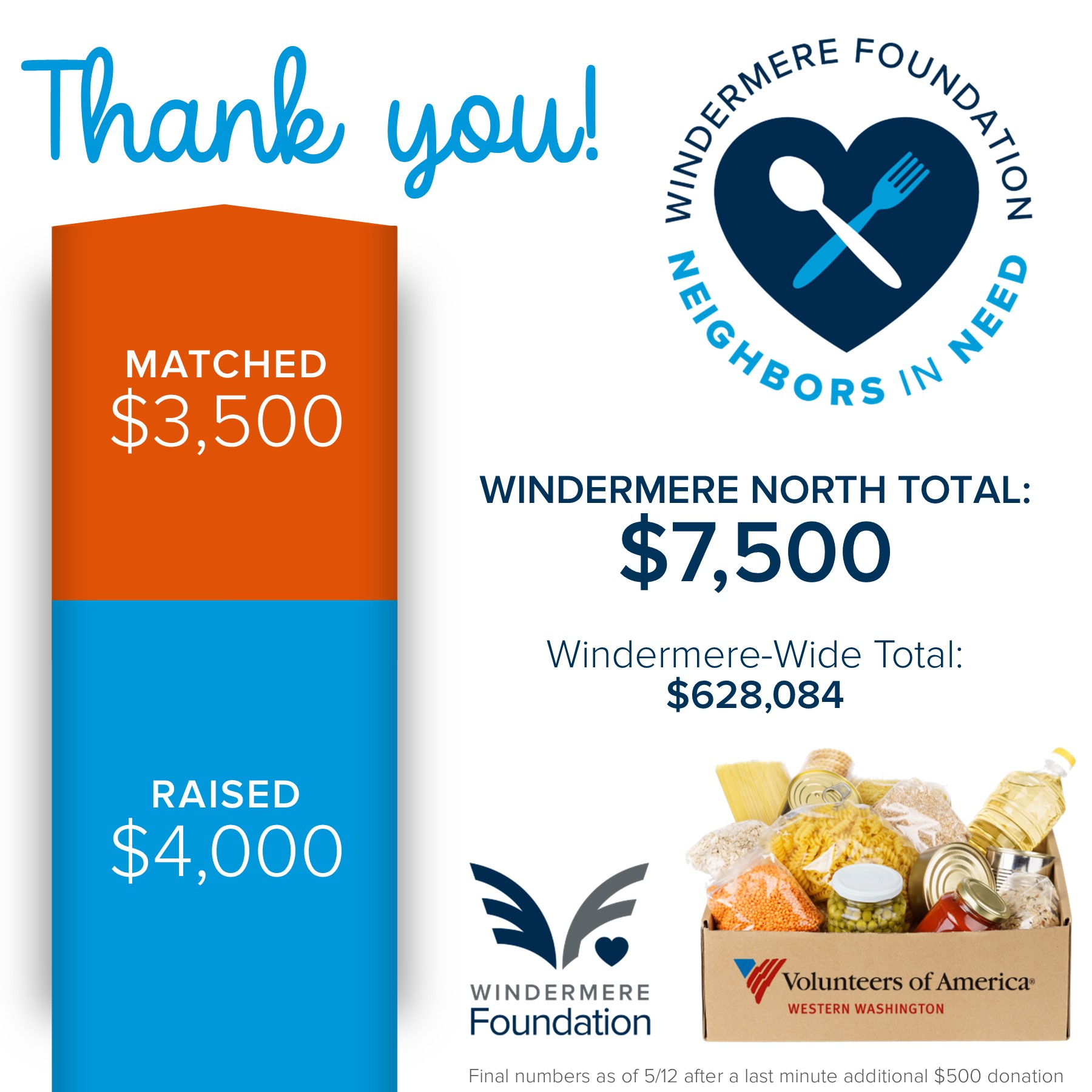 We couldn't have done it without you! Thanks to your generosity, we have surpassed our fundraising goal to benefit local food banks. The Windermere Foundation is matching every dollar up to $3,500, so we will be able to give a total of $7,500 to help feed our neighbors in need.
A portion of this money will go towards buying vegetable starts for the Martha Perry Veggie Garden, which will provide thousands of pounds of fresh produce to local food banks through the summer. Our office will soon get to work helping plant those starts along with the Snohomish Garden Club. We will be in small groups practicing proper social distancing over the course of several days in order to efficiently and safely get this acre of land planted. The rest of the funds will go to the Volunteers of America, who will stretch every dollar to its fullest extent throughout many food banks and food pantries across the county.
This is a portion of a larger fundraiser throughout the Windermere network. The funds are still being counted, but the total amount being given to local food banks is currently over $600,000!
Thank you!
Are we Headed Towards a Repeat of the 2008 Housing Meltdown?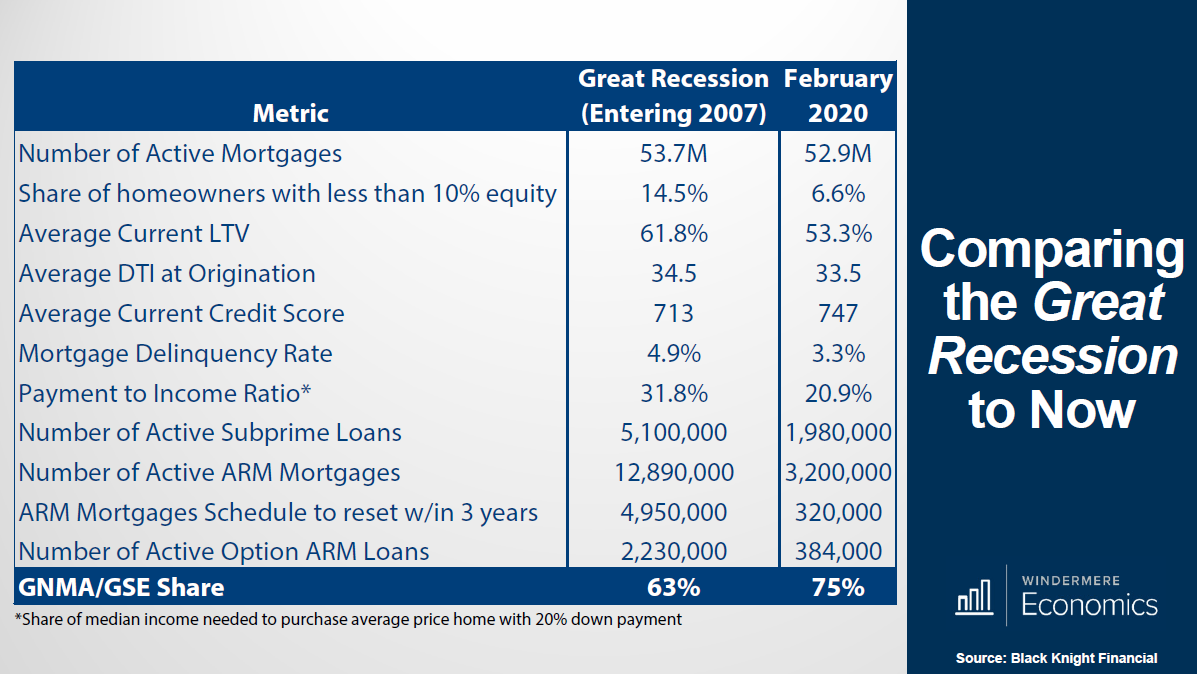 The pressure the COVID-19 global pandemic is putting on the economy is a reality. As a real estate broker, I take great pride in having the honor of being your trusted advisor when it comes to your investment in the housing market and protecting the value of your home. I have been asked several times, "Is this the Great Recession all over again?"
At Windermere, we have continued to rely on the expertise of Matthew Gardner, Windermere's Chief Economist. Above is a chart he shared from Black Knight Financial comparing the housing market as we headed into this global health crisis versus the start of the Great Recession in 2007. Below is an 11-minute video going over the chart line by line. I urge you to watch the video and key in to his expertise versus what you might hear in the media. Matthew predicted the Great Recession and does not shy away from heeding the truth, even if it is not great news. I trust him and I hope you do too.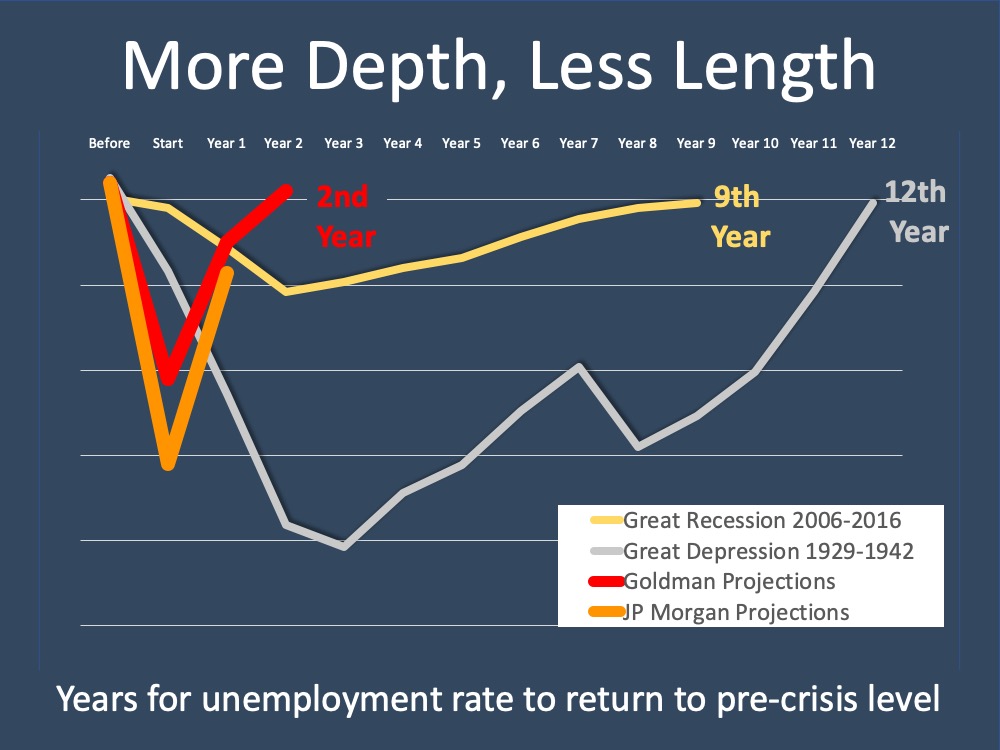 Bottom line, we are heading into this economic challenge with a much more formidable foundation based on more stringent lending practices, higher equity levels, and we are anticipating a shorter 1-2 year V-shaped recovery, compared to the long U-shaped recovery of the 5-year Great Recession. In fact, we have seen pending sales rise over the last three consecutive weeks, some even with multiple offers. Every neighborhood and every price-point has its own story. Please reach out with any questions or concerns. It is my goal to help keep you informed and empower strong decisions.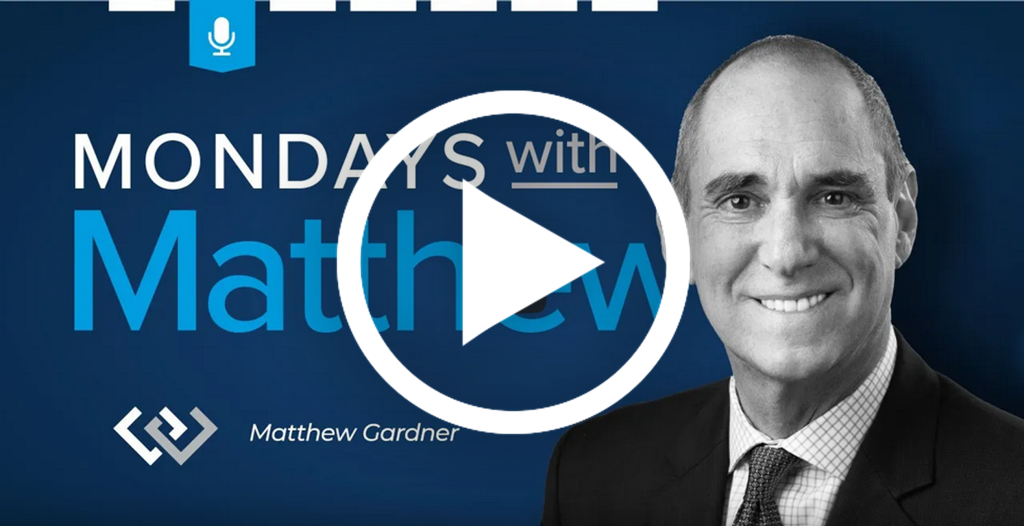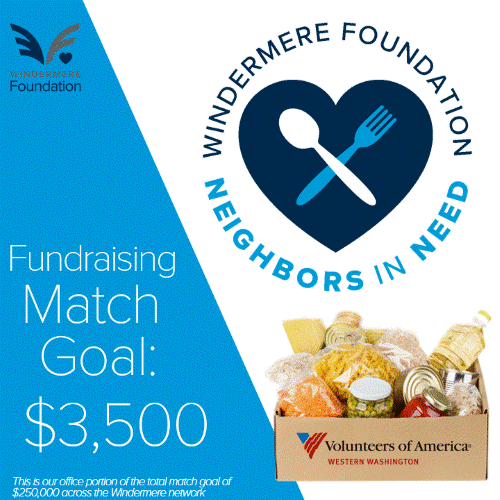 We're on a mission to help our local food banks keep their shelves stocked during this uncertain time. For every dollar our office raises, the Windermere Foundation is matching up to $3,500 through May 5th! This is a part of a total of $250,000 in matching funds from the Windermere Foundation, with the goal to give $500,000 to food banks across the areas that Windermere serves.
The need has never been greater, so we're partnering with the trusted Volunteers of America (VOA) of Snohomish County, who know how to stretch every dollar to its fullest extent and successfully manage many of the food banks and food pantries across the county. In addition, a portion of the total raised will go towards buying vegetable starts for the Martha Perry Veggie Garden (MPVG) managed by the Snohomish Garden Club (SGC) – which will supply local food banks with thousands of pounds of fresh produce throughout the summer and early fall. 
Our team of agents at Windermere North will be planting close to an acre of starts on behalf of the VOA at the MPVG with the SGC the end of May into early June in small groups practicing proper social distancing. We have done this project for three years as a larger group and we are thrilled to creatively get it done this year. Food Banks have always coveted fresh produce and this effort will be more meaningful than ever this year.  
If you are able to give, any amount will help make an impact and directly benefit our Neighbors in Need: gf.me/u/xy7ikd
Thank you!!
Due to the Stay Home, Stay Healthy orders being extended through May 4th, our annual Shred Event & Food Drive has been postponed to July 18, the first Saturday after the new income tax filing deadline. The safety of the attendees, our agents, staff and the public at large is our highest priority. We sincerely apologize for any inconvenience this may cause and look forward to seeing you in July!
This is our 9th year partnering with Confidential Data Disposal; providing you with a safe, eco-friendly way to reduce your paper trail and help prevent identity theft.
Saturday, July 18th, 10AM to 2PM
4211 Alderwood Mall Blvd, Lynnwood.
Bring your sensitive documents to be professionally destroyed on-site. Limit 20 file boxes per visitor.
We will also be collecting non-perishable food and cash donations to benefit Concern for Neighbors food bank. Donations are not required, but are appreciated.
**This is a Paper-Only event. No x-rays, electronics, recyclables, or any other materials.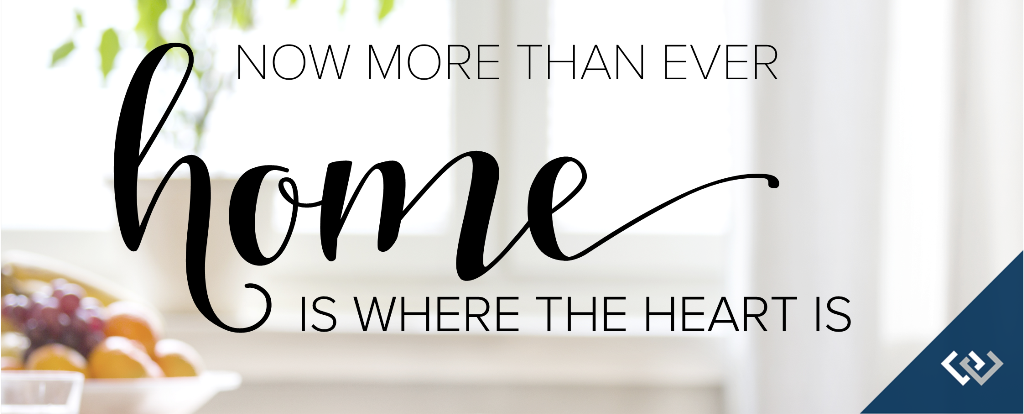 As we head into week four of the Stay Home/Stay Healthy orders in Washington State, I turn my thoughts towards my gratitude for housing. It's safe to say that over the last few weeks we've become quite intimate with our four walls, the brick and mortar that we call home. Concrete, steel, wood, and glass make up the structure that keeps us safe and protected, but it's who and what is inside that makes it a home.
I don't know about you, but I've never spent so much time in my home. This has developed a greater appreciation of the little things that make it special and even an acceptance of my not-so-favorite features. That quiet corner I can sneak away to, a blooming spring garden, a functional kitchen to create meals, and the community that surrounds us during a time of isolation are just a few items on my list of thank-yous. Our homes have become our sanctuaries, now more than ever. It goes beyond the sticks and stones that hold it upright; it is the heart in which our lives are pulsing.
I've always taken my role in helping people with their housing very seriously. To be asked to assist people in the purchase or sale of their home is an honor. The careful steps taken to protect liabilities and keen negotiations to ensure the highest and best value are very important components and ones I have a passion for. Now though, envisioning the connection one has or could have with a home is seen more deeply.
It is customary to have a list of features that one desires in a home and to pursue those features in the hunt for new housing or to celebrate them when selling. Buying and selling real estate is an emotional process and this experience has highlighted that connection more than I've ever realized before. Navigating finances is sensitive, but getting to the core of where you will spend your days or say good-bye to the place that housed you is meaningful. I've always seen real estate as a relationship business; while we do transactions that have a beginning and an end, the relationships are ongoing beyond the closing of a sale.
I wanted to take this time to say thank you for allowing me to be your trusted advisor when it comes to your housing. It means a lot to be a part of something so special and important in people's lives. Also, just a reminder to please use me as a resource if you need any help maintaining your home. I have a list of reputable contractors and service providers that can help you care for your home should you have something break or want to make an improvement.
We've never navigated an environment like this before and I am committed to helping you stay informed.  I'm happy to report that we are still seeing positive real estate activity happening during the Stay Home/Stay Healthy orders. My next newsletter, in two weeks will re-cap the latest statistics and will start to tell the more complete story of COVID-19 and real estate. We headed into this health crisis on the shoulders of a very strong first quarter in real estate and still have many positive economic influences in the PNW. I am certain there will be pent up demand on the other side of this historical time and I am hopeful many jobs will return. Stay tuned for this upcoming report and please reach out if you'd like to discuss now. In the meantime, I wish you and yours good health, a warm heart, and a happy home. Be well!